My Blog
Posts for tag: dentures
By Michael J. Tisdelle DDS
January 05, 2017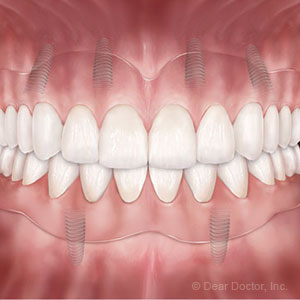 Not long ago, the most affordable option for total tooth loss was a removable denture. Dentures, prosthetic (false) teeth set in gum-colored acrylic plastic bases, can effectively restore function and appearance. But the appliance continues to have one major drawback: it can accelerate bone loss in the jaw.
Like other living tissues, older bone cells die and become absorbed into the body (resorption). Normally they're replaced by newer cells. The forces generated when we chew our food travel through the teeth to stimulate this new growth. This stimulus ends when we lose our teeth, and so cell replacement can slow to an abnormal rate. Eventually, this causes bone loss.
Removable dentures can't provide this stimulation. In fact, the pressure generated as they compress the gums' bony ridges can even accelerate bone loss. That's why over time a denture's fit can become loose and uncomfortable — the bone has shrunk and no longer matches the contours of the dentures.
In recent years, though, a new development has been able to provide greater support to dentures while at the same time slowing or even stopping bone loss. We can now support dentures with dental implants.
Implants are best known as individual tooth replacements: a titanium metal post replaces the root, while a life-like porcelain crown attaches to the post to replace the visible tooth. In addition to providing a longer-lasting alternative to removable dentures, implants provide a very important health benefit: they improve bone density because they mimic the function of natural teeth. Bone cells are naturally attracted to the titanium; they adhere to the titanium post and are stimulated to grow through the action of chewing, increasing bone density and securing the implant's hold in the jaw.
Using the same technology we can support removable dentures, or even full fixed bridges. Rather than rest directly on the bony ridges, a denture can make a secure connection through a coupling system with just a few strategically placed implants. We can also permanently attach a full bridge by fastening it to a few implants with screws.
Not only do we eliminate the pressure from dentures compressing the gums and bone tissue, we can actually stimulate bone growth with the implants. Although more costly upfront than traditional dentures, unlike traditional dentures which must be replaced every five to seven years, long-lasting implants may be more cost-effective over the long-run.
If you would like more information on implant-supported tooth replacement, please contact us or schedule an appointment for a consultation. You can also learn more about this topic by reading the Dear Doctor magazine article "New Teeth in One Day."
By Michael J. Tisdelle DDS
September 25, 2015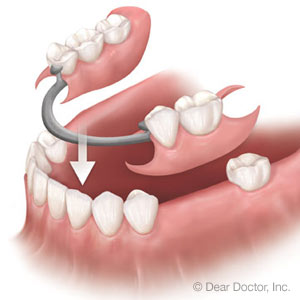 Dentures, removable restorations for missing teeth and gum tissue, can take a number of different forms, but are usually of two different types: complete and partial. A complete denture replaces all the teeth in a given arch. A removable partial denture (RPD), on the other hand, replaces several missing teeth while using the remaining teeth as support.
A common type of RPD formed of plastic is known as a "flipper" because it's lightweight enough to be "flipped out" or moved around with the tongue. They serve an important purpose as a temporary appliance for use between periodontal treatment, implant placement and similar treatments before obtaining a more permanent restoration. In fact, they're often referred to as "transitional" RPDs because they're not designed for permanent tooth replacement.
Because of their low cost relative to other restorations, however, they often become the permanent choice for many people. While a well-constructed, properly fitting RPD in a healthy mouth can be an affordable alternative for people on modest budgets, their long-term use may increase the risk of dental disease and accelerated bone loss. Decades of research verify that people who permanently wear RPDs encounter more tooth decay and periodontal (gum) disease than non-wearers.
This is because the attachment points of a plastic RPD to remaining teeth increases bacterial growth, which can cause both tooth decay and gum disease. This doesn't only endanger the survival of the remaining teeth, it can lead to bone loss that will affect the RPD's fit.
While the better course is to consider RPDs as a stepping stone to dental implants or a fixed bridge, there's an intermediary RPD constructed of cast vitallium or gold alloy that could be considered a permanent choice. These are even lighter weight than plastic and less obtrusive in their attachments in the mouth, which can reduce plaque stagnation and promote a better oral environment.
Regardless of your choice in dentures, it's always important to maintain good consistent oral hygiene with daily brushing and flossing and semi-annual professional cleanings and checkups. Keeping a healthy mouth will help reduce your risk of dental disease and increase your satisfaction with your denture of choice.
If you would like more information on RPDs and other denture restorations, please contact us or schedule an appointment for a consultation. You can also learn more about this topic by reading the Dear Doctor magazine article "Removable Partial Dentures."